AffordableDJsLasVegas.com
celebrates it's 15th year in creating successful Vegas events, ranging from extremely casual to elegantly formal, in the most fabulous and exciting city on earth, Las Vegas! We bring corporate and social events to life and get the party going with exciting party music of all genres and styles with flawless beat mixing, live deejay entertainment, dazzling light shows and karaoke creating beautiful memories to celebrate your party or special occasion.
If it's a corporate function such as a conference, meeting, product launch, seminar, company picnic, etc. or a special occasion or social function; wedding, anniversary, mitzvah, birthday, sweet sixteen party, bachelor/bachelorette party, high school dance, pool party, prom, luau, family reunion, LGBT parties, soirees, equestrian events, Christmas, New Year celebrations etc. being planned in Las Vegas, Henderson, Summerlin and surrounding areas in Laughlin and Boulder City,
Affordable DJs Las Vegas
will make your special event a HUGE success!


Affordable DJs Las Vegas
' professional sound systems can accommodate any size location or venue for the enjoyment of as few as 10 - 500 guests or rock the house for corporate or social events for as many as 1,500 -10,000 attendees!
Affordable DJs Las Vegas,
a full time mobile deejay entertainment company, is home to CEO and Master of Entertainment Rocky Saruby, former lead guitarist, professional sound mixer, game show and film personality. Our team of professional Vegas DJs, Vegas Event DJ Entertainers, Vegas Wedding DJs, Karaoke DJs, Techno DJs, Mashup DJs, MCs, Celebrity Guest Impersonators and Special Event Planners have the experience and expertise to compliment the style of your event. Our mobile state of the art sound systems together with our professional Vegas DJs and live entertainers matched perfectly to your event, along with the most enjoyable mix of background music, flawless beat mixing, exciting dance party music for all ages and dazzling light shows will create an unforgettably fun celebration, corporate function or social event for you and your guests they will long remember!
Affordable DJs Las Vegas
takes great pride in it's reputation for providing high-quality sound along with dazzling light shows and mobile DJ entertainment services. Our work is repeatedly referred and recommended by many professionals in the Las Vegas special event industry and most importantly, by our many
satisfied clients
. Our solid reputation in providing professional and reliable special event services beyond our clients expectations and within their budget, keeps our team of professionals in high demand.
Unforgettably Fun Celebrations
Ranging From Extremely Casual To Elegantly Formal!
Call 702-743-6833 or contact us today for a FREE consultation.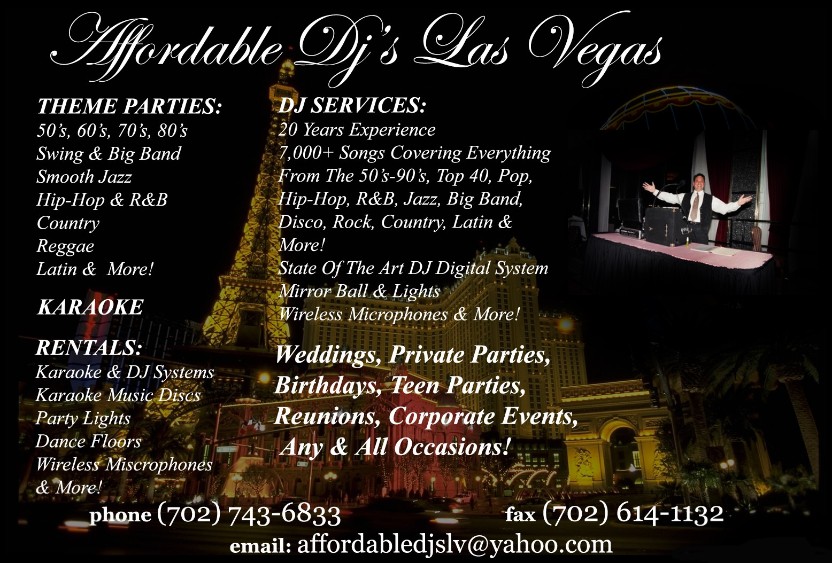 Parties Done Right!
Since 1998
We Always Make Time For Referrals

All Rights Reserved
Las Vegas Disc Jockeys, Vegas DJs, Vegas Wedding DJs, Karaoke Services, DJ Equipment, mobile disc jockeys, event planners, las vegas special events, las vegas entertainment video production, corporate event planners, Las Vegas Event Services, Vegas DJ Entertainment, Vegas Disc Jockeys, live dj entertainment, dazzling light shows, karaoke services, Affordable DJs Las Vegas, Disc Jockeys, DJs, Affordable Disc Jockeys, videography production, Vegas celebration, Las Vegas party rentals, theme party, las vegas karaoke services, digital photography, las vegas venues, las vegas event planners, special event services, dj equipment rentals, karaoke, las vegas wedding djs, party music, mobile DJ entertainment, las vegas deejays, djs las vegas, vegasdeejays, vegas wedding djs, theme parties, dj equipment rentals, wedding deejays, affordable vegas wedding djs, affordable vegas djs, affordable djs las vegas, mobile vegas djs, party music, Weddings, Private Parties, Corporate Events, Receptions, Reunions, Teen Parties, Luaus, Company Picnics, Corporate Events, Soirees, Product Launches, Equestrian event, special events, Birthday parties, Proms, mitzvahs, anniversaries, special event services, event dj entertainers, celebrity guest impersonators, music, LGBT events, Techno DJs, Mashup DJs,

Las Vegas Disc Jockeys, Vegas DJs, Vegas Wedding DJs, Karaoke Services, DJ Equipment, mobile disc jockeys, event planners, las vegas special events, las vegas entertainment video production, corporate event planners, Las Vegas Event Services, Vegas DJ Entertainment, Vegas Disc Jockeys, live dj entertainment, dazzling light shows, karaoke services, Affordable DJs Las Vegas, Disc Jockeys, DJs, Affordable Disc Jockeys, videography production, Vegas celebration, Las Vegas party rentals, theme party, las vegas karaoke services, digital photography, las vegas venues, las vegas event planners, special event services, dj equipment rentals, karaoke, las vegas wedding djs, party music, mobile DJ entertainment, las vegas deejays, djs las vegas, vegasdeejays, vegas wedding djs, theme parties, dj equipment rentals, wedding deejays, affordable vegas wedding djs, affordable vegas djs, affordable djs las vegas, mobile vegas djs, party music, Weddings, Private Parties, Corporate Events, Receptions, Reunions, Teen Parties, Luaus, Company Picnics, Corporate Events, Soirees, Product Launches, Equestrian event, special events, Birthday parties, Proms, mitzvahs, anniversaries, special event services, event dj entertainers, celebrity guest impersonators, music, LGBT events, Techno DJs, Mashup DJs,

Las Vegas Disc Jockeys, Vegas DJs, Vegas Wedding DJs, Karaoke Services, DJ Equipment, mobile disc jockeys, event planners, las vegas special events, las vegas entertainment video production, corporate event planners, Las Vegas Event Services, Vegas DJ Entertainment, Vegas Disc Jockeys, live dj entertainment, dazzling light shows, karaoke services, Affordable DJs Las Vegas, Disc Jockeys, DJs, Affordable Disc Jockeys, videography production, Vegas celebration, Las Vegas party rentals, theme party, las vegas karaoke services, digital photography, las vegas venues, las vegas event planners, special event services, dj equipment rentals, karaoke, las vegas wedding djs, party music, mobile DJ entertainment, las vegas deejays, djs las vegas, vegasdeejays, vegas wedding djs, theme parties, dj equipment rentals, wedding deejays, affordable vegas wedding djs, affordable vegas djs, affordable djs las vegas, mobile vegas djs, party music, Weddings, Private Parties, Corporate Events, Receptions, Reunions, Teen Parties, Luaus, Company Picnics, Corporate Events, Soirees, Product Launches, Equestrian event, special events, Birthday parties, Proms, mitzvahs, anniversaries, special event services, event dj entertainers, celebrity guest impersonators, music, LGBT events, Techno DJs, Mashup DJs,

































Las Vegas Disc Jockeys, Vegas DJs, Vegas Wedding DJs, Karaoke Services, DJ Equipment, mobile disc jockeys, event planners, las vegas special events, las vegas entertainment video production, corporate event planners, Las Vegas Event Services, Vegas DJ Entertainment, Vegas Disc Jockeys, live dj entertainment, dazzling light shows, karaoke services, Affordable DJs Las Vegas, Disc Jockeys, DJs, Affordable Disc Jockeys, videography production, Vegas celebration, Las Vegas party rentals, theme party, las vegas karaoke services, digital photography, las vegas venues, las vegas event planners, special event services, dj equipment rentals, karaoke, las vegas wedding djs, party music, mobile DJ entertainment, las vegas deejays, djs las vegas, vegasdeejays, vegas wedding djs, theme parties, dj equipment rentals, wedding deejays, affordable vegas wedding djs, affordable vegas djs, affordable djs las vegas, mobile vegas djs, party music, Weddings, Private Parties, Corporate Events, Receptions, Reunions, Teen Parties, Luaus, Company Picnics, Corporate Events, Soirees, Product Launches, Equestrian event, special events, Birthday parties, Proms, mitzvahs, anniversaries, special event services, event dj entertainers, celebrity guest impersonators, music, LGBT events, Techno DJs, Mashup DJs,

Las Vegas Disc Jockeys, Vegas DJs, Vegas Wedding DJs, Karaoke Services, DJ Equipment, mobile disc jockeys, event planners, las vegas special events, las vegas entertainment video production, corporate event planners, Las Vegas Event Services, Vegas DJ Entertainment, Vegas Disc Jockeys, live dj entertainment, dazzling light shows, karaoke services, Las Vegas Disc Jockeys, Affordable DJs Las Vegas, Disc Jockeys,
DJs, Affordable Disc Jockeys, videography production, Vegas celebration, Las Vegas party rentals, theme party, las vegas karaoke services, digital photography, las vegas venues, las vegas event planners, special event services, dj equipment rentals, karaoke, las vegas wedding djs, party music, mobile DJ entertainment, las vegas deejays, djs las vegas, vegasdeejays, vegas wedding djs, theme parties, dj equipment rentals, wedding deejays, affordable vegas wedding djs, affordable vegas djs, affordable djs las vegas, mobile vegas djs, party music, Weddings, Private Parties, Corporate Events, Receptions, Reunions, Teen Parties, Luaus, Company Picnics, Corporate Events, Soirees, Product Launches, Equestrian event, special events, Birthday parties, Proms, mitzvahs, anniversaries, special event services, event dj entertainers, celebrity guest impersonators, music, LGBT events, Techno DJs, Mashup DJs,

Las Vegas Disc Jockeys, Vegas DJs, Vegas Wedding DJs, Karaoke Services, DJ Equipment, mobile disc jockeys, event planners, las vegas special events, las vegas entertainment video production, corporate event planners, Las Vegas Event Services, Vegas DJ Entertainment, Vegas Disc Jockeys, live dj entertainment, dazzling light shows, karaoke services, Las Vegas Disc Jockeys, Affordable DJs Las Vegas, Disc Jockeys,
DJs, Affordable Disc Jockeys, videography production, Vegas celebration, Las Vegas party rentals, theme party, las vegas karaoke services, digital photography, las vegas venues, las vegas event planners, special event services, dj equipment rentals, karaoke, las vegas wedding djs, party music, mobile DJ entertainment, las vegas deejays, djs las vegas, vegasdeejays, vegas wedding djs, theme parties, dj equipment rentals, wedding deejays, affordable vegas wedding djs, affordable vegas djs, affordable djs las vegas, mobile vegas djs, party music, Weddings, Private Parties, Corporate Events, Receptions, Reunions, Teen Parties, Luaus, Company Picnics, Corporate Events, Soirees, Product Launches, Equestrian event, special events, Birthday parties, Proms, mitzvahs, anniversaries, special event services, event dj entertainers, celebrity guest impersonators, music, LGBT events, Techno DJs, Mashup DJs,

las vegas djs, las vegas djs, las vegas djs, las vegas djs, las vegas djs, las vegas wedding djs, las vegas wedding djs, las vegas wedding djs , vegas djs,
las vegas djs, las vegas djs, las vegas djs, las vegas djs, las vegas djs, las vegas wedding djs, las vegas wedding djs, las vegas wedding djs , vegas djs,
vegas wedding djs, karaoke, theme parties, dj equipment rentals,, wedding deejays, vegas deejays,, affordable wedding djs, affordable vegas djs, affordable djs las vegas, vegas djs, wedding djs, karaoke, theme parties, dj equipment rentals,, wedding deejays, vegas deejays,, affordable wedding djs, affordable vegas djs, affordable djs las vegas, vegas djs, las vegas wedding djs, karaoke, theme parties, dj equipment rentals,, wedding deejays, vegas deejays,, affordable wedding djs, affordable vegas djs, affordable djs las vegas, veg djs,
las vegas djs, las vegas djs, las vegas djs, las vegas djs, las vegas djs, las vegas wedding djs, las vegas wedding djs, las vegas wedding djs , vegas djs, Karaoke Services,
las vegas djs, las vegas djs, las vegas djs, las vegas djs, las vegas djs, las vegas wedding djs, las vegas wedding djs, las vegas wedding djs , vegas djs, Karaoke Services,
party music, party music, party music, party music, party music, vegas djs, vegas djs, vegas djs, vegas djs

Weddings, Private Parties, Corporate Events, Receptions, Reunions, Teen Parties, Company Picnics, Corporate Events, Soirees, Product Launches,
Weddings, Private Parties, Corporate Events, Receptions, Reunions, Teen Parties, Company Picnics, Corporate Events, Soirees, Product Launches,
Weddings, Private Parties, Corporate Events, Receptions, Reunions, Teen Parties, Company Picnics, Corporate Events, Soirees, Product Launches,
Vegas DJs, Vegas Event DJ Entertainers, Vegas Wedding DJs, MCs and Celebrity Guest Impersonators, Vegas DJs, Vegas Event DJ Entertainers, Vegas Wedding DJs, MCs and Celebrity Guest Impersonators, Vegas DJs, Vegas Event DJ Entertainers, Vegas Wedding DJs, MCs and Celebrity Guest Impersonators,Vegas DJs, Vegas Event DJ Entertainers, Vegas Wedding DJs, MCs and Celebrity Guest Impersonators
vegas wedding djs, karaoke, theme parties, dj equipment rentals,, wedding deejays, vegas deejays,, affordable wedding djs, affordable vegas djs, affordable djs las vegas, vegas djs, wedding djs, karaoke, theme parties, dj equipment rentals,, wedding deejays, vegas deejays,, affordable wedding djs, affordable vegas djs, affordable djs las vegas, vegas djs, las vegas wedding djs, karaoke, theme parties, dj equipment rentals,, wedding deejays, vegas deejays,, affordable wedding djs, affordable vegas djs, affordable djs las vegas, veg djs,
las vegas djs, las vegas djs, las vegas djs, las vegas djs, las vegas djs, las vegas wedding djs, las vegas wedding djs, las vegas wedding djs , vegas djs, Karaoke Services,
las vegas djs, las vegas djs, las vegas djs, las vegas djs, las vegas djs, las vegas wedding djs, las vegas wedding djs, las vegas wedding djs , vegas djs, Karaoke Services,
party music, party music, party music, party music, party music, vegas djs, vegas djs, vegas djs, vegas djs

Weddings, Private Parties, Corporate Events, Receptions, Reunions, Teen Parties, Company Picnics, Corporate Events, Soirees, Product Launches,
Weddings, Private Parties, Corporate Events, Receptions, Reunions, Teen Parties, Company Picnics, Corporate Events, Soirees, Product Launches,
Weddings, Private Parties, Corporate Events, Receptions, Reunions, Teen Parties, Company Picnics, Corporate Events, Soirees, Product Launches,
Vegas DJs, Vegas Event DJ Entertainers, Vegas Wedding DJs, MCs and Celebrity Guest Impersonators, Vegas DJs, Vegas Event DJ Entertainers, Vegas Wedding DJs, MCs and Celebrity Guest Impersonators, Vegas DJs, Vegas Event DJ Entertainers, Vegas Wedding DJs, MCs and Celebrity Guest Impersonators,Vegas DJs, Vegas Event DJ Entertainers, Vegas Wedding DJs, MCs and Celebrity Guest Impersonators